The Shirt dress.
Why is it so difficult to write about the Shirtdress?
I have just had a revelation-
I made the shirtdress in 2006, when I was just about to open my shop in what had been my studio.It was on the second floor down an alley of the only unrenovated building at Berlin´s Hackescher Markt.
This is a photo of the old shop in 2010.
On April 25th it will be 15 years since the opening.
Things are looking pretty different now.
My shop has been shut for … I don´t know long, I have lost count how many days and months it has been and I don´t know whether I even want to open again or whether it will be my choice.
The Shirtdress is deeply personal for me because I have worn it to nearly every significant and insignificant event since I made it. There have been times when I have worn the Shirtdress several days a week; I have worn it to work, on holiday, to weddings and to meetings at the bank.
It also represents the shop for me, now that I know this I can move forward.
I am in transition… so is the Shirtdress.
Those familiar with my design know that I generally use plain colours for my styling; at most a check or a stripe. Shape always comes first for me and if you are selling clothes to other people, I feel it has to represent them.
AND IT DOES! And HOW..
I have watched in astonishment as it featured in sewalong. #stokxshirtdresssewalong.
9 ladies took my pattern and it exploded with possibilities.
Yes, you can wear versions of it to the beach and right on to the stage of an opera.
Plain, checked, paisley, floral, long, short.
Very different ladies, very different dresses, same pattern.
The skill of these makers is fantastic. Follow them on social media to see their other makes. Starting from the top left to the bottom right: #nahtzugabeblog ,#birgit.knutsen ,#astrid_beckmann , #wildnaht , #consistentlydifferentdesigns , #septemberfaden , #kissntuss , #miss_mollipolli , #janyeraven
The Design Process
I was just about to open the shop and I wanted a dress..
It should allow movement and look good on all women! I also wanted it to be original and NOT to look like a nurse's uniform. I like nurses uniforms, but they are hard to sell. Yes, I was aiming high. That was the brief I gave myself.
The design of the Shirtdress came down a revamp of a good, but not perfect dress . The "Safari dress".
Japan before 2006
I loved it, but the Safari dress had one disadvantage, it didn't suit a full bust. So it had to evolve. It was button-through, A- line and had big pockets. It also had 4 sets of double belt loops.
The belt loops were originally there for longer waisted wearers, however they became a feature in themselves as they made it possible to manipulate the dress´s silhouette.
I kept the silhouette; the pockets stayed; I kept the back and the belt loops…
I don´t like facings on button-through dresses, they flap about, so I decided on the classic mens' shirt edge with one difference. I put a tape underneath the buttons to prevent them ripping off. This had been another problem with the Safari dress that I decided to fix.
80% of the dress was there, but I wanted something that I hadn´t seen before.
In these situations I go back to the dummy with a piece of cloth, pins and scissors then drape and mess about until something "clicks."
I transferred my shape on to paper and then impulsively cut it on the bias grain.
When I saw it attached to the finished dress I took it off because it was too tame.
I replaced it with the original one on the straight grain and the "chaos collar" was there, along with the expression "Leave space for chaos because it will come anyway"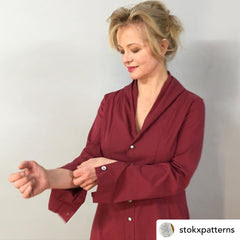 The red is the Athena Blouse a close and more fitted relative of the Shirtdress

The sleeve ended up with a fold and pseudo cuff because I had taken against cuffs and plackets and I didn´t want to normalise my dress.
By this stage everything had been done several times and had been tweaked and remade.
The buttonholes ended up on the left, over the right side because I saw no reason why there should be a difference between women's and men's buttonings …
I throw away anachronisms with Gusto! ( this is another story…. Note to self )
The decisions made in a design process show: where you were, when, and what was important at the time.
I used to try and better the Shirtdress.
Now I see it as good and of its time and it is still good.
The dress comes in an inclusive size range and is easy to tweak.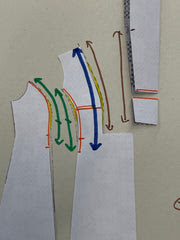 The only thing you really have to worry about is the measurement over the bust from side seam to side seam
I would like to thank all who have made and shared the Shirtdress.
It means a lot to me.
If you would like to share your make, please use the #stokxshirtdress hashtag and tag @stokxpattern too.
Thanks
Lindy